Root Canal Therapy Guelph
When the inner material of the tooth becomes infected or damaged, a root canal procedure may be necessary. Inside the tooth is the dental pulp which is a soft core that reaches from the roots at the very bottom to the visible crown at the top.
Instead of a tooth removal, in some cases, our Guelph family dentist Dr. Diodati can perform a root canal operation. These procedures can sometimes salvage a damaged or infected tooth. This can help avoid further dental work by cleaning the tooth canal to avoid bacterial infections. Essentially, this preserves the tooth and negates the need for a treatment such as an implant or crown.
When is root canal therapy needed? Inside your tooth is a soft core which is referred to as the pulp. If damage is sustained by the tooth or if a cavity is formed then this pulp can become infected. It is always advised that you keep observing any changes in your teeth and regularly visit your dentist. Guelph based practice Grange Dental Health Care is here for ongoing checkups on your dental health.
Symptoms such as pain, temperature sensitivity and swelling around the gums and facial area are all things you should inform your dentist of. Changes in tooth colour and gum tissue could also be signs of an infection.
If any of these symptoms surface, it is advised to visit our dental surgeon in Guelph. Orthodontist Dr. Diodati will inspect your teeth thoroughly to check for infections and decay. If a root canal is needed, this non-surgical procedure using a local anesthetic may be undertaken. The entire treatment can be done in one or two trips to our practice. Medication is sometimes used to clear up the infection and draining of this pulp chamber may be required for a few days. Of course, these timeframes depend on the extent of the damage.
When experiencing any discomfort, you should always consult your dentist. Guelph based practice Grange Dental Health Care is here for your oral health. Contact us to request an appointment at our office right here in Guelph. Direct billing dentist treatments are available.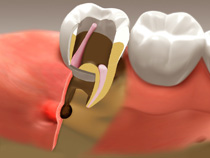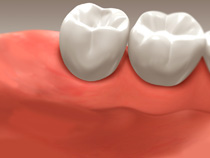 Last Updated On
2021-10-19