Full Mouth Restoration Guelph
Sometimes dental work can be neglected for years. This is not uncommon, as it can seem like a much more daunting task than it needs to be. If preventative care has not been taken then the issues with teeth can escalate. Worn, missing or damaged teeth can affect us in all kinds of ways. It can diminish our confidence and make eating in public or even smiling an ordeal. Teeth may be painful, uncomfortable or even embarrassing and it may seem like there is no solution. Here at our Grange Dental Health Care, we aim to provide a solution.
When it comes to this extensive level of dentistry, our Guelph dental surgeon Dr. Diodati aims to provide a full and comprehensive range of techniques. You may benefit from veneers, crowns, bridges, endodontic or periodontal therapies. Dental implants and other measures can be carried out at our Guelph family dentist. Upon examination, our dental surgeon will use visual and radiographic methods to fully assess what needs to be carried out for your full mouth restoration. It may require multiple trips depending on the severity and complexity of the issues facing your dental health.
Dr. Diodati at Grange Dental Health Care in Guelph may use a combination of any appropriate restorative and cosmetic procedures to help bring back your smile. We understand that the idea of such an all-encompassing dental job may cause anxiety for some. With this in mind, it is worth enquiring about the options we at Grange Dental Health Care can provide for you. You may be surprised with the effectiveness of relatively quick procedures and hopefully put at ease by the friendly atmosphere we aim to create.
If you are unsure about what action to take with your dental health, do not hesitate to contact us at our Guelph family dentist practice.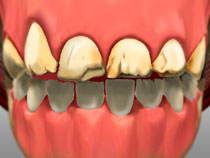 Last Updated On
2021-10-19