Dental Crowns
If you're suffering from teeth that are chipped, discolored, or have decay or breakage, consider crowning those teeth.
Sometimes referred to as "dental caps," Dr. Diodati uses crowns for restoring teeth at our practice in Guelph. Cosmetic dentist procedures are also available for discoloured teeth such as veneers and teeth whitening.
Ever wondered what the difference is between a crown and a filling, dental inlay, or dental onlay? Crowns cover the entire tooth from the gum line up—so in essence, a crown becomes your new tooth surface because it completely envelopes it. On the other hand, fillings, inlays, and onlays only cover or fill a portion of the tooth, so your natural tooth surface still shows alongside.
A crown may be used because a filling would not replace enough of the tooth in order to make it strong enough. They can also be used for bridges which reduce the amount of space between teeth. This space can cause irritation and straining of the jaw. Crowns can be used to hold together a cracked tooth, taking away the need to remove the entire tooth. It can be a restorative procedure as well as an aesthetic one.
One similarity that crowns and fillings do have, however, is that many times they can be created from similar materials like porcelain, ceramic, or even gold alloy. To place a crown, part of the original tooth needs to be filed down. Sometimes a foundation must be built up on which to place the crown, depending on what condition the tooth is in and how much of the tooth is remaining. A temporary crown is fitted while the actual crown is made, so the procedure usually takes two trips. To ensure that the crown fits in with your existing teeth (and how those sit against each other when you bite) an impression of your mouth is made.
Not sure which material makes the most sense for your crown? Ask our Guelph dental surgeon Dr. Diodati to tell you more about your crown options.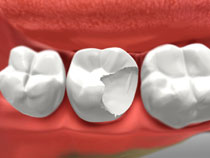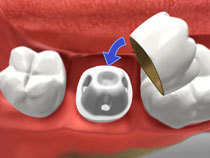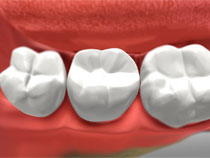 Last Updated On
2021-10-19