Dental Bridges Guelph
If you have missing teeth, you are not alone. Missing teeth become increasingly common as you age but it should not worry you as it may have done before. There are treatments out there with the aim of restoring the appearance of your smile. Using the latest technologies in dentistry, our Guelph family dentist can discuss solutions for you and your smile.
Having trouble speaking or chewing? Or perhaps noticing strain when biting? Bridges may well be the ideal procedure to help make your mouth healthy and beautiful again. Bridges literally "bridge" gaps between teeth by filling them with artificial teeth. Bridges are semi-permanent – they can only be removed by a dentist – and are comfortable and proven to strengthen teeth. Even if you do not have missing teeth, a bridge may be a solution to your mouth issues if you have a larger than normal gap between teeth that causes discomfort.
This is a procedure available at our family dentist in Guelph. Direct billing dentist procedures can be arranged such as crowns, implants and dentures.  
If this sounds like something might improve your dental hygiene, we would be happy to explore our solutions with you. Our dental health professionals will be able to discuss the different types of bridges and the benefits of each one. If you are looking for a dental bridge, look no further than Grange Dental Care in Guelph. Dental surgeon Dr. Diodati will be able to alleviate any concerns you may have about any procedures we offer. Contact us today to request an appointment at our Guelph family dentist.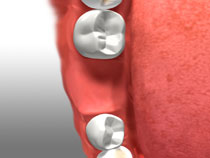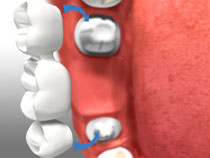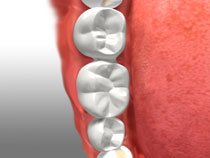 Last Updated On
2021-04-19