Bonded Fillings Dentist Guelph
Natural/"Tooth-Colored" Composite Restorations
If you have reservations about traditional fillings, you'll be thrilled to know that dental science has made many advances since metal fillings were invented. Grange Dental Health Care in Guelph can use a composite resin if you require a cavity filled. Are you concerned about lengthy procedures? Composite resin fillings only take a single appointment to apply. If an inlay is required for your teeth, it can take two trips to our Guelph family dentist.
Bonded fillings may be the right solution for you. Whether a tooth is broken or chipped, our Guelph dental surgeon at Grange Dental Health Care will be able to match the colour more closely, compared with traditional fillings.
Fillings can be a solution to problems such as decay. Although preventative care can mitigate and even prevent some of these issues occurring, it is not always as simple as brushing your teeth twice a day. Factors outside of diligent dental maintenance can affect teeth, like clenching your jaw due to stress or accidental damage from injury.
Other causes could include:
Nail-biting

Using your teeth to open things

Bruxism (which is teeth grinding)
With stress-induced teeth grinding, it is often not noticed at first. The patient may have been experiencing facial pain and aches without realizing the true cause. This can often happen during sleep. If a filling is not yet needed but teeth grinding persists as an issue, there can be personal or lifestyle factors to take into account. More direct reasons for teeth grinding include smoking cigarettes or having too much caffeine in your diet. Alcohol can also increase the chances of teeth grinding during sleep. Click here to read more about preventative care for your teeth.
Feel free to discuss your concerns or queries about treatments with our dental health professionals. Our Guelph dental surgeon Dr Diodati is here for you.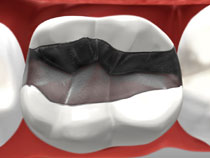 Last Updated On
2021-10-19