Amalgam-Free Dental Fillings in Guelph
If you are looking for amalgam-free dental fillings in Guelph, you will be delighted to know that our very own Dr. Diodati at Grange Dental Health Care works with a variety of restorative materials, including those free from mercury or amalgam. At our dental health practice in Guelph, we can explore with you the aesthetic difference that a crown could make on a discoloured or damaged tooth. If you require more complex procedures such as a replacement tooth implant or even root canal therapy, Dr. Diodati can work with you to devise a treatment plan specified for repairing or replacing your natural teeth. This can be done without the use of amalgam containing solution.
The benefits of amalgam fillings are their long lasting nature. These metal alloy fillings can last from 10 to 15 years. They also cost less than composite resin fillings. They are considered safe and have been in use since 1895. These fillings are made from a metal alloy, which is usually mercury combined with another metal. If you have any concerns about the use of mercury fillings, these are things we can discuss during your appointment at our practice in Guelph. Orthodontist Dr. Diodati will be able to alleviate these concerns and discuss  
With amalgam fillings, the concerns for people can be based on aesthetics since they cannot match the exact colour of your teeth. If this is a concern for you, don't hesitate to come and discuss your options at our Guelph dental practice. We are dedicated to alleviating your worries or concerns and providing a professional service you can really smile about!
Some people may also be allergic to fillings containing mercury or concerned about the health effects in general. The alternatives to this type (such as a composite resin) could provide a suitable option for you. Whatever the case, feel free to come discuss our dental health solutions right here in Guelph. Click here to request an appointment.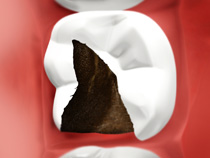 Last Updated On
2021-04-19